The premise of Ratticus: A True Tale from Critter Corner was admittedly a little strange, it is purely the true tale of one family's experience of a rat problem in their home, and would've been blog-fodder in the days before self-publishing. Still I gave it a go.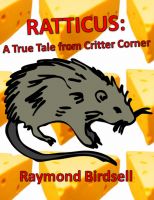 Despite my scepticism Ratticus is actually an amusing and fast paced read. The frustration of the householders is palatable, especially when trying to find the mysterious creature that was destroying their white goods. The author's vivid description gives an hilarious mental-picture of all out war between him and the rat. At times it felt more like fiction than non-fiction, not a bad thing at all.
I like the idea of a blog providing extras to the book, something that has been suggested for several years in order to add value to e-books. In this case however I do not feel the minimal blog content actually adds to the account, and could have benefited by being linked to certain events/pages in the book.
Overall, whilst short (a ten minute read at most), it is a hilarious and well written account of one man's battle against a smaller, but quicker mind. It may be lacking real information (for a non-fiction book) or a complex plot (as a piece of fiction) but this does not affect the enjoyment for the reader, as long as the reader does not expect too much.
Ratticus: A True Tale from Critter Corner is available from Amazon UK
for 86p and from Amazon US
for $1.38. It is also available in a range of formats from Smashwords priced at 99c.
[A review copy was provided by Raymond Birdsell]