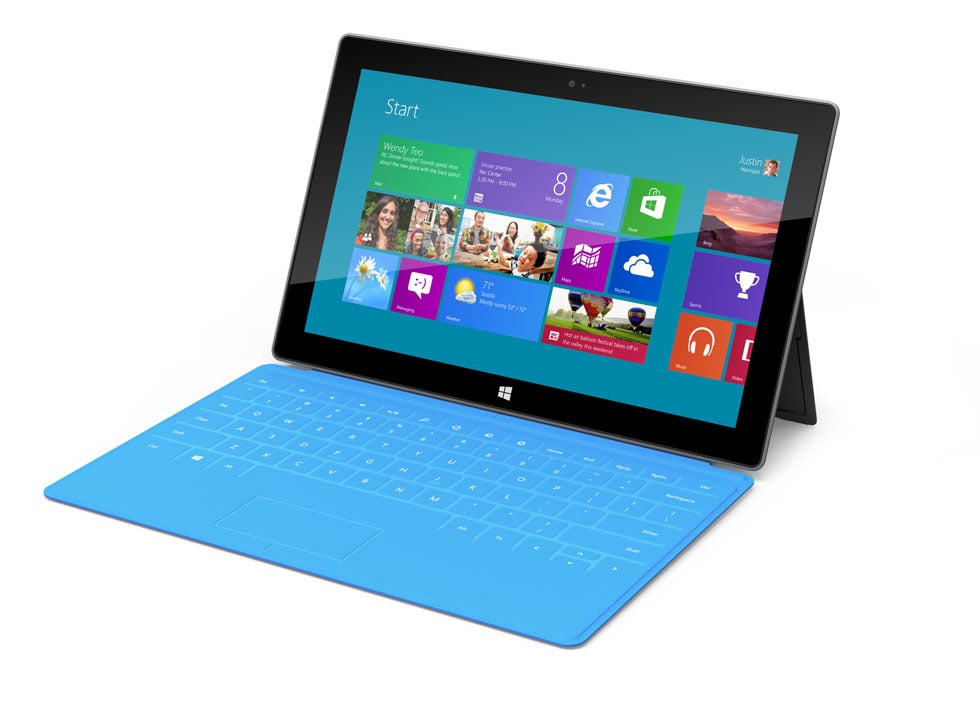 I was obviously a very good girl this year as Santa brought my Microsoft's new Surface tablet for Christmas. This review is solely about it's function as a e-reading device, a review of the tablet's other features will follow shortly.
Look and Feel
The Surface feels pleasantly heavy in the hand and the bevelled edges give it a quality feel. However as an e-reader the weight is a concern. It is difficult to imagine holding the device for any length of time, especially as it is wider than it is high, which makes holding it portrait style, like you would a traditional e-reader, difficult and uncomfortable. The Surface does come with the much-publicised stand, which means if you have a table and don't mind reading in landscape mode then the weight and dimensions become less of an issue.
Overall 2/5
Screen
The screen is bright, crisp and clear - although not as sharp as the iPad with it's retina display. I enjoyed viewing covers and illustrations on the screen, and did not have any issues with finger smudges on screen. However when reading a novel I had to give up after 10 mins as the backlight was hurting my eyes. You can turn down the screen brightness using the charms bar, but for me that didn't solve the problem. Reading magazines in colour was however a much better experience. The images and text appeared quickly, and there was less of a jarring lag when turning pages or resizing text than I get with my Kindle.
Overall 4/5
Apps
One of the first apps I downloaded was the Kindle app which is very similar to the Android app but obviously occupying a much bigger screen. The app works well and is quick and simple to use. I was quite worried about finding a decent app to read non-DRM EPUB files but there are several apps available for this purpose. I personally prefer Book HD, which is easy to use and has a very nice layout. I particularly like the option of having multiple shelves for different types of books - like collections on Kindle but with the ability of viewing covers. A big plus of using a tablet for e-reading is the ease of transferring books. The Surface comes with SkyDrive which is a cloud based storage system, you can also transfer via a full sized USB, download from your e-mail or web stores or use the micro-SD port. This is really helpful for me as I don't have to go via Calibre or mess around with cables.
Overall 5/5
Other Features
Whilst some people might like not to be bothered when reading, I don't mind it too much. With the Surface I quite like having Messaging running in the background whilst reading, which allows me to then chat to people when they come online, instead of having the laptop running and having to switch devices. It is a simple left to right swipe to change between your book and chat, and back again. The same applies to having music in the background, listening to audio books and browsing the web - all features in Kindle which don't function as well as they could.
For those who like to type notes into their books - this feature is still available in the Kindle app, although I haven't tried it in the other apps. The standard keyboard, much praised by Microsoft, takes a little time to get used to due to the lack of tactile feedback (it is much easier to type with the sound on) but once you get used to it works well; I type about as fast as I do on a normal keyboard and indeed wrote this post entirely using the Surface and it's keyboard. Much more ergonomic than the Kindle keyboard, particularly if you add a lot of notes.
Overall 5/5
Overall
As a device purely for e-reading, the Surface tablet has many attractive features but for me the weight and backlit screen mean I won't be getting rid of my Kindle just yet, as the reading experience for books is just not good enough. If you are more into magazines or comics then maybe this is a device to consider. That is not to say I don't like the Surface as a tablet device but for reading it just cannot compete with an e-ink device.
3/5