New author Trine Daely has released a collection of poetry called
Life Games
and is offering it for just 99 cents (59p in the UK) at Smashwords (usually $2.99).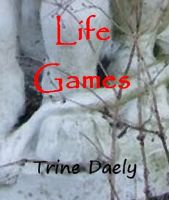 From Smashwords
Here is what the author has to say about the collection:
"

A collection of poetry written over a span of dark years in my life, sometimes with hope for the future, sometimes without. I wrote about the images in my dreams, my daydreams, my nightmares - think of it as a verbal expression of a painting in my brain, with all the variations you would expect from colorful to minimalist, strict verse to free verse."
Even if poetry is not generally your thing, give it a try, I know I will and a review will be
coming
soon.
To take advantage of this amazing offer click here and enter coupon code
EX45P
at the checkout. This code
will work until 24th May 2012.
Thanks goes to Trine Daely for allowing me to list this offer.