It's always a joy to see children read, and if you have little ones at home this latest offering from John H. Carroll will provide endless reading fun, as well as being absolutely free!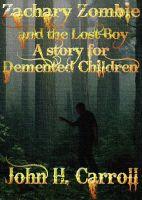 From Smashwords
Zachary Zombie and the Lost Boy
follows Zachary who gets sent to fetch newts for Gert the Wicked Witch. Along the way he comes across Tobias, who got lost following an emo bunny, and Zachary agrees to help get Tobias home and that is where their adventure begins. To top it off the author provides this wonderful disclaimer
'
Caution: This story is not for normal children. If
you have any intention of raising a well adjusted child, this is not the right tale for you.'
It is a wonderful book from someone who obviously has lots of
experience
telling funny stories to his own children.
To get hold of a copy simply download from here. If you liked Zachary Zombie then you should also have a look at The Emo Bunny that Should: A story for demented children which is also available free from Smashwords.