Michael J. Scott's latest offering is a psycho-thriller based in New York state called
The Coppersmith
. It follows the FBI's hunt for a religious zealot who is killing pastors across Upstate New York. His last book
Jefferson's Road
attracted 4 and 5 star reviews and, if the inside of
The Coppersmith
is as good as it's synopsis, then this one should follow the same pattern. It's definitely moved to the top of my to read list.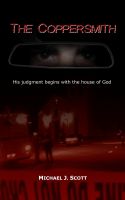 From Smashwords
"
He calls himself the Coppersmith…
A religious fanatic bent on murder, he begins systematically eliminating pastors in Upstate New York. From small towns to large cities he selects his victims, seemingly at random, and subjects them to a torturous death.
Janelle Becker is the agent with the FBI's Behavioral Analysis Unit charged with solving the crimes. But even with the Bureau's resources, she finds herself ill-prepared to unravel the Coppersmith's message. Why do his methods keep changing? How can they know where he'll strike next? And can she escape her own dark past before it's too late?
As she and her fellow agents track down the clues of the Coppersmith, they find themselves following an ancient itinerary that hearkens back to the steps of the apostle Paul. It becomes a race against this faceless killer as they struggle to predict his movements and get ahead of his deadly message of judgment. Can they stop him in time?"
Scott has released the book in a number of formats and is available from both
Smashwords
and
Amazon UK
for 69p or 99 cents. More information can be found at Michael J. Scott's
official site
.