I have an embarrassing secret, I absolutely love 'reality TV' books, you know the ones, following the life of people doing everyday jobs. They are often trashy and written by cynics disenchanted with their careers but they are the perfect book when you don't want a long detailed plot, just something to read. Monday Books seems to be the preferred publisher of this genre, and I have read most of their books in one form or another.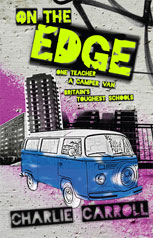 From Monday Books
On The Edge: One teacher, a camper van, Britain's toughest schools appealed to me right from the start, having taught in secondary schools myself and follows the journey of Charlie Carroll, a supply teacher, through a journal style look at his year travelling around teaching in the countries 'toughest' schools. The narrative is well written and you soon feel that your there in the author's freezing cold camper van or in the classroom where the pupils simply don't care. However it lacked the humour of previous books in the genre and only briefly confronted the reasons behind poor behaviour and under achievement in schools. The events recalled in the book are not as shocking as the title might first suggest, and generally it just shows how life really is for supply teachers in comprehensive schools up and down the country. There are some wonderful moments when Mr Carroll connects with the pupils which is heartening to read. It is a must for anyone considering either teaching or supply teaching in the UK to get away from the 'rose tinted' view given during recruitment.
Overall, not what I was expected but a great read and true to life.
On the Edge
is available from
Amazon UK
for £2.99